the ultimative oversized sweater:
b u s a n
Busan is a chunky, yet light sweater that, with its combination of Italian merino, silk and mohair that will contribute to the feeling of pure luxury. The Italian merino wool contributes to the fact that the natural fibers from the sheep will keep you warm when needed, while the sweater feels airy.
buy pattern now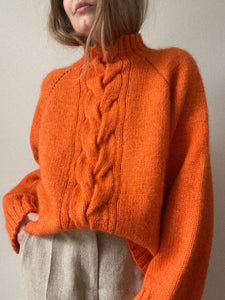 coming in november
h a r a b o j i
Mark your calendars, because on 23th November the pattern for the Haraboji cardigan will be published in Danish, Norwegian and English. Find the single pattern on the website or in the Fremstrikk2023 magazine (only Norwegian).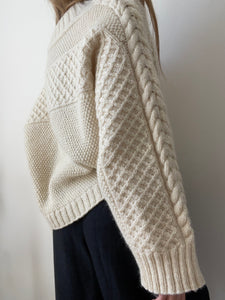 e u r u s
Eurus is the name of the greak God for eastern wind and fall, and this pattern will blow your mind. While it is still classic and made to last forever, made in danish wool from Hjelholt Uldspinderi.
buy pattern now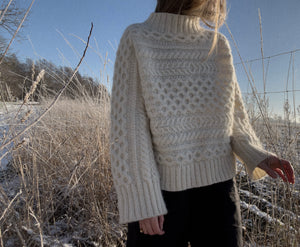 our big brother:
o b b a
Obba was inspirered by the little sister 'jeol' and has now become the ultimate two coloured strand sweater. With a boxy silhoutte and a simple raglan, the sweater is perfect for both women and men.
buy pattern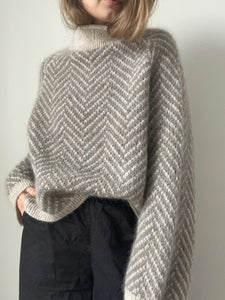 s o o k m o o n
The Sook Moon Sweater is a soft and chic friend for life. With its changing stripe pattern that allows discreet glimpses of skin, Sook Moon is a playful sweater that challenges the eye. In a mix of silk, wool and mohair, the sweater feels light, and yet with a beautiful draped effect that makes it appear completely classic at the same time.
buy pattern now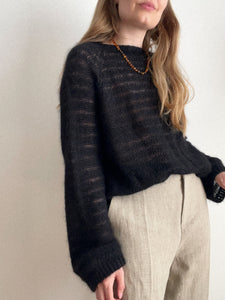 DISCOVER OUR CLASSICS
J E O L
In korean jeol means "to bow for Buddha". Because of the colorwork pattern being in the bottom of the sweater - jeol is our interpretation of a forever classic.
Shop pattern now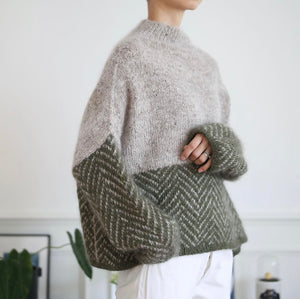 THE NEW CLASSICS
N A R A E
When we thought of making the pattern for Narae cropped sweater we really wanted to focus on innovative design with a minimalistic feel and classic details.
buy pattern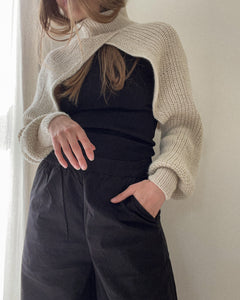 "Aegyo is pronounced [egg-yo] - and refers to a Korean phenomenon where it's desired to appear irresistible or extra cute. We chose the name to emphasize the feminine and playful nature of our way of creating patterns - and our personal ties to South Korea. "
"Aegyoknit is founded as a collab between mother and daughter: we strive to make modern knitting patterns, with the keywords: minimalistic,meticulous, and oversized silhouettes."
"The inspiration for our patterns orignates in korean fashion and scandinavian minimalism. The style of our patterns are timeless and classic. Which fits any capsule wardrobe. "